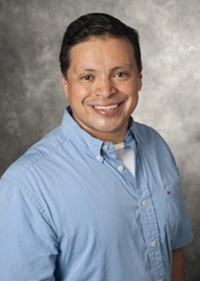 Dr. Diego Román is an Assistant Professor in Teaching and Learning at Southern Methodist University in Dallas, Texas, specializing in bilingual and science education.
He holds a B.S. degree in Agronomy from Zamorano University in Honduras and a M.S. degree in Curriculum and Instruction from the University of Wisconsin-­Whitewater. He earned a M.S. degree in Biology, a M.A. in Linguistics, and a Ph.D. degree in Educational Linguistics, all from Stanford University.
Prior to starting his studies at Stanford University, Dr. Román taught middle school science to English Learners and newcomer students for seven years, first in rural Wisconsin and then in San Francisco, California.
Three words that describe Diego:
language, science, travel
The dots that Diego connects:
Latino/Latina students in science education, international education, language acquisition