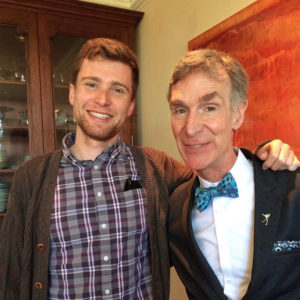 Tom McFadden (pictured left, next to Bill Nye the Science Guy) is a Middle School Science Teacher (The Nueva School) & Founder of "Science With Tom."
His STEM education and outreach work (mainly in the biological sciences) is for K-12 audiences and the general public. He's currently focusing on increasing student engagement with science via music and YouTube (and interviewing diverse scientists about their work).
Some things he'd like to talk to other COPUS members about: 
Running your own entity (both for profit and non profit)
Next Generation Science Standards
Digital Outreach
Curriculum
Opportunities for live musical performances and workshops
Tom's in the San Francisco Bay Area, and particularly interested in connecting with others nearby.
One of Tom's memorable STEM moments:
"Learning about protein synthesis in 9th grade biology. The realization that each cell in our body is teaming with billions of micro-machines whirring away turning the outside world into ourselves."
Connect with Tom: