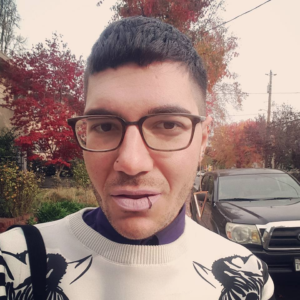 Cris Alvaro will be greatly missed, they passed away in early 2018.
They had been based in San Francisco, California
Many people still share memories on Cris's Facebook page.
It is with great sadness that we report the passing at age 29 of Cris Alvaro, an exceptionally bright and talented scientist and educator, and a beloved member of COPUS. Cris identified as a trans and non-binary person, using the preferred pronouns they/them/their.  Cris was a community builder wherever they went, and had friends all over the nation. A GoFundMe campaign, which was created to honor their memory, exceeded its $30,000 goal.
Cris completed their PhD in 2015 from the Department of Molecular and Cell Biology, Professor Jeremy Thorner had been their PI. Before their untimely death, they had been an IRACDA Fellow and postdoc in Allan Basbaum's lab in the Department of Anatomy at UCSF, where they studied differentiation of itch and pain signals in the central nervous system. "Cris Alvaro was one of the brightest, most warm-hearted, deeply caring, and beautiful human beings I have ever known," said Professor Thorner. "They had the amazing talent of being able to uplift the spirit of every other person with whom they came in contact."
Cris was also a popular performance artist, participating in performance pieces and drag shows around the SF Bay Area. They believed strongly that scientists should be encouraged to be well-rounded people — that scientists should not only be encouraged to do great research, but also have opportunities to improve their emotional intelligence, mental health, and pursue interests outside of science. They were incredibly supportive of underrepresented individuals in the sciences and were an activitist for the STEM LGBTQ community, as well as students and scientists who were first in their family to attend university, and communities of color.
Cris became a member of the COPUS community when they attended the 2017 January COPUS Unconference in Mexico. They were particularly interested in STEM education/outreach to vulnerable and under-served populations in the US and around the world.
Donations in Cris's honor may be made to the Cris Alvaro Memorial Fund, which will send proceeds to trans mental health services and racial justice organizations selected by their family. www.gofundme.com/crisalvaromemorialfund
Cris's words: My memorable moments that piqued my interest in STEM come largely from my exposure to reach during my undergraduate experience. I did not come from an academic family, and upon entering college I wasn't aware of STEM job opportunities outside of medicine. My first research experience at Muhlenberg College, a small liberal arts college, opened my eyes to the world of research and there I was mentored by a faculty member and fell in love with the scientific process of experimentation and discovery. As an undergrad, I was fortunate to go to a conference where I was able to present my work and be a part of the scientific community. These experiences and the guidance and support I received through the faculty at my undergraduate institution were the memorable experiences I had and allowed me to believe I could be a part of the STEM community.