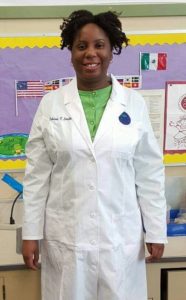 Tokiwa Smith is a Chemical engineer, STEM Educator and social entrepreneur. She is the Founder and Executive Director of Science, Engineering and Mathematics Link Inc also known as SEM Link a nonprofit organization that she founded in 2005 that exposes youth to STEM and STEM Careers that has programs in Atlanta and the DMV (DC, Maryland and Virginia) areas.
She is also CEO and Principal Consultant for Kemet Educational Services, a STEM Educational Consulting Firm that she started in 2010 that focuses on ensuring that pre-college, community college and undergraduates students are prepared to pursue STEM careers. Tokiwa recently relocated back Atlanta, Georgia after spending 7 years in the San Francisco Bay Area, where she first connected with COPUS.
She recently attended her third Unconference, this January in the Yucatan Peninsula Mexico, where we were able to connect with her and learn more about her.
Tokiwa is a native of Miami, Florida and is an alumna of Florida Agricultural and Mechanical University (FAMU) a Historically Black College and University (HBCU). She has spent her career working for and developing STEM educational programs for precollege and undergraduate students to provide opportunities for them to be exposed to and be prepared for STEM careers. Through the work of her consulting firm, Kemet Educational Services she is using her background as an engineer and professional experience to bridge the gap between the STEM community and individuals and organizations that want to add STEM to their programming and/or learn how to engage kids in hands on STEM activities by providing them with strategies and tools to do so. Through the work of her nonprofit SEM Link, she is doing one of the things that she loves the most, exposing youth to STEM by engaging them in hands on STEM activities and connecting them with the STEM community.
Tokiwa's nonprofit SEM Link, is currently in the midst of its "Its All About the Pi" Spring Fundraising Campaign , which ends on April 28th. The funds from this campaign, which individuals can make their tax deductible financial contribution online will support their programs, which include the 10th Annual STEM Career Fair and Exhibition on Saturday, April 15th at Georgia Tech. This event will provide K-12 students and their families with an opportunity to explore careers and meet and interact with professionals in these fields. In addition, Saturday, April 8th, Tokiwa will go back to her alma mater FAMU and along with SEM Link volunteers engage middle and high school students in a hands on chemistry activity at the STEM Expo on STEM Day hosted by the College of Science and Technology.
Some things she'd like to talk to other COPUS members about:
SEM Link
KEMET
Cooperation
All About the Pi
One of Tokiwa's memorable Unconference moments:
One of Tokiwa's most memorable moments from the unconference were from our outreach event. "This is the first time that we incorporated an outreach component to the Unconference. It was great to see us work together as a COPUS core as well as connect with the local STEM community to have a great STEM event for the kids. I met some great future STEM professionals from the Yucatan Peninsula that day, including a little boy named Omar that already knew that he wants to be a civil engineer when he grows up."
By James Zhou