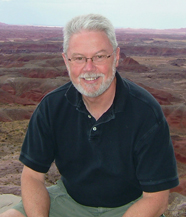 Regretfully I can't remember how we actually first met. It seems that he was just always there. Lee had an impressive geology career and was serving as the State Geologist and Director of the Kansas Geological Survey during the critical years of cyclic episodes of creationism that overtook the Kansas science standards. So most certainly our paths crossed at the National Conference on the Teaching of Evolution in 2000 if not before.
But in 2005, Lee Allison walked into my office at UC Berkeley, sat down, and said "Judy, we've got to do something about these anti-evolution guys – they are anti science!" That was all it took to trigger the idea and then the actions that gave birth to COPUS. That's who Lee was. He had an unmatched and undeterred energy and enthusiasm about him. Plus, he had an overwhelming passion for understanding the history of our earth and a deep-lying respect for the science that could provide the answers and stimulate more questions.
It seemed that with every encounter with everyone, Lee sparked creative and expanded thinking. That was as true late in his career as it was at our Berkeley meeting in 2005. So before I knew it, we had secured funding from NSF to bring in some folks for brainstorming a national initiative with three goals:
developing a shared appreciation of science, its contributions to the quality of life, and its underlying role in advances in technology and engineering
informing and engaging the public in and about science, its process and products
making science more accessible to everyone
And we even came up with a name – the Coalition on the Public Understanding of Science – COPUS.
Soon there was a COPUS Core of people sharing ideas of concrete steps toward those lofty goals. This resulted in the Year of Science 2009 and the crazy idea of holding an unconference and Lee found the perfect venue – the Biosphere. There in the Arizona desert, the COPUS Core expanded into the COPUS Corps and an annual unconference became the norm… all because of a guy with an impish grin, a huge heart, and an amazing energy.
It was always fun and comfortable being around Lee – whether at a meeting of the minds in DC or sharing a beer at GSA or hanging out with COPUS friends at an unconference. You just wanted to be around him. He will be sorely missed.
By Judy Scotchmoor