By Layla Chamberlin
On October 14, 2017, Berkeley's COPUS intern team participated in SEM Link's annual STEM Career Fair in Washington DC (click here to see an awesome photo slideshow). The fair was organized for the greater DC community by scientist and educator, Tokiwa Smith. All were welcome at this event, but it particularly highlighted some outstanding local scientists and educators of color. With fun, hands-on activities, it invited students and families to celebrate their love of science, engineering, and math. Impressively, this event was 100% free, open to the public and easily accessible.
I joined the COPUS team this fall, and it's been my first student internship experience at UC Berkeley. It was only a few weeks into the internship when our team accepted Tokiwa Smith's invitation to participate in the SEM Link fair. I had never participated in a science fair nor visited DC before, and we were already boarding our plane to fly across the country before I could say "Coalition for the Public Understanding of Science!"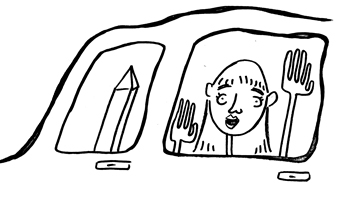 We left Oakland around 7pm on a Friday, and after one layover, our plane finally landed in DC around 7am the next day — just as the sun began to rise. Being in a new city, far away from the Bay Area, was refreshing after so many routine days and laps around the Berkeley campus. As we crossed the bridge and entered the city, I heard the Jurassic Park theme song play in my head. (Thanks John Williams – that song still gives me chills). As a first-timer to the city, I was mesmerized by the magnificence of the massive colonial architecture on 14th Street and the modesty of the quaint brick homes behind the face of the historical epicenter. Our first stop was at a lovely local restaurant called Ted's Bulletin where we hydrated, caffeinated and satiated ourselves before we went to the University of the District of Columbia, UDC, to set up for the fair.
When we arrived at the university, we were warmly welcomed by SEM Link's founder, Tokiwa Smith. On the way over to DC, my team told me so many wonderful things about Tokiwa — meeting her in person did not fall short of my expectations. Despite me being in an unfamiliar place with a relatively new team, Tokiwa exuded a confidence that was comforting, relaxing and made me feel ready to work our booth. As we began neatly laying out our cellular diagrams, color-in cartoons of organelles, and microscope with slides, I was excited to see the other participating groups enter and set up their tables. There was everything from circuit boards to forensic science!
Around 10am, the students and families started to arrive. Despite the diversity in age, from three years old to juniors in high school, every kid that visited our stand eagerly asked interesting, perceptive and engaging questions. I was humbled to learn that so many of the kids there had already begun to code in their early elementary school classes, and many aspired to be engineers, astrophysicists, and neurosurgeons. It was even more inspiring to see these thirsty young minds working side by side with amazing scientists, engineers and teachers, all of which had given up their Saturday to bring science to the community.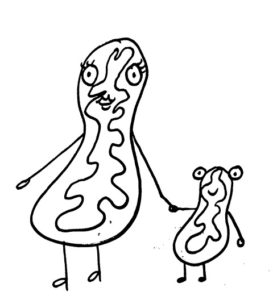 As the fair filled up and kids were racing around, fervently asking questions and dragging their friends to go with them to the various stands, we (the COPUS interns) began honing our skills as educators. I learned that this style of teaching, casual and curiosity-driven, is very effective in facilitating a scientific dialogue with children. In comparison to a classroom exercise, it allows kids to interact with the material on a much more intimate level. Our table didn't come with a worksheet or a set of instructions, and kids could explore on their own terms.
One girl, who was a second grader, sat with me for an hour and looked at each of the 25 microscope slides multiple times. Our slides were a slice through biodiversity – showing sections of tissues from mushrooms, plants, insects, and vertebrates. For each slide, I asked her what organism she thought it came from. And for each tissue type she observed, I told her a bit about how it functions in the organism. By the end of my hour with her, she began to make her own hypotheses as to why specialized cells are structured the way they are. Not all my interactions were this long, but no matter the length of time spent with each child, each conversation was just as charming and rewarding. Krystin Ventura, another COPUS intern, said that when she told one girl that the DNA in her mitochondria comes from her mother, the girl looked up at her mom, giggled and said, "That's really nice of you."
It was all over too soon and by 3pm we were wrapping up and heading out. By Sunday morning, we were already back in the SF Bay Area; concluding a quick 24-hour trip! But it was an experience I won't soon forget. It was heartwarming to see both parents and students, and people of all genders and colors become engaged learners and equally share the same curiosity for science. For every child that held on tightly as they peered into our microscope, their parent or guardian also looked through the lens with deep fascination.
That morning, on the way to the science fair, I learned that our 67 year old Lyft driver had never visited any of the Smithsonian museums on the National Mall. (These public museums are completely free to all visitors.) Before retiring, he had worked in a government job located in the heart of the city. He was an African American man that had grown up in Washington DC — lived and worked there his whole life. He'd never visited a national museum, even though his son is currently a security guard at the new National Museum of African American History and Culture. He said it was due to the excessive traffic and tourism in the area. But some of our team wondered – as a child and teen, were his schools welcomed into the museums for tours? Did the museums make an effort to reach out to his neighborhood and welcome his community? As an adult, it's easy to see why a person would choose to avoid traffic and touristy spots, but with the resources so close by, it's telling that he'd never had an experience with them as a kid.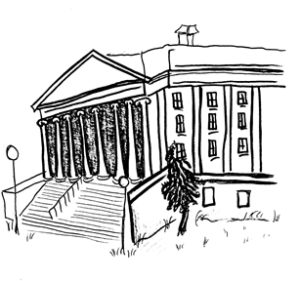 DC has been a city with inspirational African American leaders and strong education institutions for a long time – Howard is a renowned university and has been around since 1867. However, in the early 1900s, President Woodrow Wilson made all federal government agencies segregated – schools, parks, and recreation facilities were segregated back then. This segregation stood until President Franklin Roosevelt was in office, when it began to be dismantled. But much was still segregated in DC all the way into the mid-to-late 1950s. And continued racism and injustices spurred riots in the city in the 1960s. By then, DC had become a city with a majority African American population – however, dating back to the 1870s, the U.S. president had dictated the local leadership. The people couldn't elect their own city leadership! Thanks to a lot of activism in the community, in the 1970s, DC finally gained the right to elect their own mayor. And ever since, African American leadership has worked to transform the city into what it is today – a beautiful, vibrant metropolis with an awesome array of places to see and go.
With all this history in mind, it's clear that a lot has changed in DC over the last 67 years. A child's experience in Washington DC in the 1950s or 60s could have been very different from today. But even today, it's readily apparent that there's far more work to be done to make sure all people feel welcomed and respected in our public institutions and places of learning.
Seeing all the joy in the room at the science fair, I was struck with the importance of outreach events like the ones SEM Link provides. We can't assume that just because there's already museums in a community that all science education needs are being met. It's ignorant to assume that all those who have curious minds will seek out established institutions for their learning.
This experience brought home to me the importance that we need to start opening doors when people are young, and make sure those doors stay open and welcoming throughout their lives. As we work to reimagine how STEM education can be, and prioritize equity and inclusion in our efforts – ensuring science is truly welcoming and accessible to all – we need to support organizations like SEM Link that are bringing science to the people and letting them know that science is for everyone.
Special thanks to Krystin Ventura for obtaining a grant from UC Berkeley (SOF Program) so that we could make the trip! And also thanks to COPUS and the UC Berkeley URAP Program for providing additional funds for materials and travel. And lastly, a very special thanks to COPUS member Tokiwa Smith, for creating this opportunity in the first place!
One more thing – I want to give a shout out to UDC, which has a fabulous campus! And two cheers for all of our country's federally recognized HBCUs, or Historically Black Colleges and Universities.