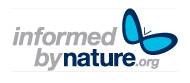 Informed by Nature (IBN) works to advance the public understanding and appreciation of science, from its elegant approach to its awe-inspiring results. We are dedicated to encouraging lifelong learning, promoting critical thinking, and celebrating science, technology, engineering, and mathematics (STEM) disciplines.
How They Do It
ONLINE: IBN accomplishes its objectives by opening homes, schools, libraries, and any internet connection to an innovative online science portal that makes learning about science and its relevance to our lives easy and engaging. IBN compiles the best science literature, lectures, films, magazines, videos, and art, among other media, in a searchable, user-friendly website that captures science enthusiasts and newcomers alike.
OFFLINE: Our outreach programs aim to educate and inspire, whether providing the online platform for student science projects and science fairs or creating a network of high school science clubs that facilitates structured activities, hosted events, online projects, and competitions. IBN further fosters public involvement in science learning by bringing professionals to the classroom to talk about how critical thinking and science knowledge inform us daily, encouraging today's specialists to inspire tomorrow's innovators with an appreciation for science
Why They Do It
Through all our efforts, IBN strives to touch every life with the wonder of science, encouraging learning, critical thinking, and giving everyone the building blocks for discovery and innovation.
Learn more at http://informedbynature.org/ and thanks to Wayne Himelsein for sharing this website with the COPUS community!