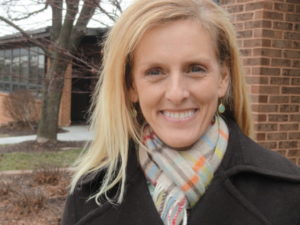 Cynthia Kramer, founder of SCOPE: Science and Citizens Organized for Purpose and Exploration.
Cynthia Kramer founded SCOPE in 2007, when a clinical trial saved her life (read more here). This grassroots initiative is dedicated to bringing Science and Technology's relevance, resources and information to communities (at no cost) from education to workforce, so the public can connect to why it matters, how to participate and ways to benefit as a parent, student or citizen.
Through community building, events, State and County Fairs, SCOPE serves over 36 communities, in Missouri and Iowa, to impact over 500,000 people. Kramer was previously a shoe designer, created the first backless women's tennis shoe and loves travel with sons Mitchell and Samuel.
Three words that describe Cynthia:
Coffee addict, Social Justice Advocate, Lover of Innvoation
The dots she connects: SCOPE connects rural, urban and suburban communities to Science and Technology resources and information, from Education to Financial Aid, Scholarships, Internships, Jobs and Careers. They connect parents, students and families to the relevancy and importance of Science and Technology for the betterment of our future, communities and lives.